The Guide to Travelling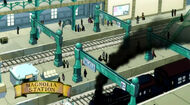 Here on Fairy Tail: New Beginnings, to get from town to town or place to place, in order to do missions or other business which requires you to get to somewhere, we travel (isn't it obvious?). However, please note that you can only be in one town at a time. To RP in another town, you must first leave the town you are currently in. Now, there are two ways to travel around.
The first, and most simple way of travel, is by train. There are train stations set all around Fiore, and so you can ride on the train easily wherever you may be. However, this service doesn't come free of charge. First, you have to pay 250 jewels to get to your selected destination. However, this only for ONE trip, meaning that you have to pay an additional 250 jewels to go back to the place you came from.
Example:
You take the train from Hargeon Town to Magnolia Town. You pay 250 jewels. Then, you want to go back to Hargeon once your business is done. So, you pay 250 jewels again to head back.
Then, after the payment in jewels, you'll have to RP the train ride in a thread/topic. Post the topic/thread in the
Train Rides
section. One thread for arriving to the station, and another thread for arriving to your destination. The amount of words for both of these threads should be 200. In the journeying thread, the amount of words you type must total to 300 words, tops. No exceptions. You may RP the journey with another person/other people, but the amount of words for all of you (individually, not combined) must be at least 300.
Next, the second way of travelling, which is free of charge (in terms of money, at least), is walking. Even if it
is
free, you must still RP the journey in a thread. This time, you must post it in the
Walking
section. The journey itself must at least be 450 words, and the starting of the journey and end should both be 150 words long, making them both equal to 300 words. Simple enough, eh?
Also, keep in mind that these threads must be Open, and not Private. This means that anyone can join your travelling thread.